New data has shown a drastic change in Australians' spending habits over the last week, due to the coronavirus crisis
The data, compiled by an analytics consultancy company, AlphaBeta, and a credit firm, Illion, has raised concerns about the economic and social climate in the country due to the Covid-19.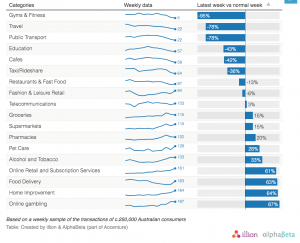 The figures have shown a whopping 67% increase in online gambling, along with alcohol and tobacco sales, with spending sales going up 33% since the COVID-19 pandemic took hold.
However, this doesn't break down the rise in online gambling by type, nor does it outline whether the data refers only to legal gambling activities. Sports betting and wagering is permitted in Australia but online casino gaming and poker are strictly prohibited under the Interactive Gambling Act.
The spike in online gambling has been linked to the lockdown occasioned by the COVID-19 pandemic which has suspended all non-essential businesses, and this right after the devastating bushfires which had raged for months.
While supermarkets and pharmacies remain substantial from the situation, the biggest gainers next to online gambling and alcohol & tobacco were online retail & subscription service, food delivery and home improvement. Furthermore, the gyms and fitness clubs have unsurprisingly taken a heavy toll as well, due to COVID-19 restrictions forcing their business to be shut down.
An Expert claims the clear link between social isolation and people increasing their gambling and drinking habits.
Charles Livingstone, an associate professor from Monash University's School of Public Health and Preventative Medicine, confirmed the link that exists between gambling and the pleasure center of the brain, making the activity rewarding. "Seeing a 67% increase is in fact worrying", Livingstone added. People have been equally looking into some free options that are still based on gambling mechanics, the data revealed. Hence addictive behaviors and gambling-related harm amongst society are inevitable.
About SiGMA Expo:
In order to bring key players of global iGaming and emerging tech sectors together, SiGMA Group will host an online conference in partnership with ICE Asia, taking place on June 8-10th, 2020. Register for free here. SiGMA Manila will be now held on the 27th and 28th of May 2021. To become a part of the fastest paced Asian iGaming event, book a pass or sponsor & exhibit here. SiGMA Group will also bring together operators, suppliers, and affiliates, facilitating new business opportunities for both existing and emerging markets at their signature show happening in Malta on November 17-19th, 2020. Book a pass or sponsor and exhibit for SiGMA Malta now.
For those planning to attend the summits this is the buzzing business environment to be expected: