If you are a betting enthusiast and are trying to create a memorable betting experience, these destinations are your go-to places
Online casinos and sportsbooks are very popular these days, but the brick and mortar casinos have something special about them that cannot be experienced online and at casino comparison sites. The dealers, the glamour, the glitz, and the atmospheres are all things you cannot replicate online.
Meanwhile the land based casino experience in some places could be said to be better than in other places. That is why we have made a collection of the best gambling venues in the entire world.
1. Las Vegas, Nevada
This is the most obvious of them all. The most famous gambling hotspot in the entire world is Nevada, and it has more than 70 casinos. This city houses the four mile stretch of casinos known as 'the strip'. If you desire any kind of wager, and are not able to find it in Vegas, then you can't find it anywhere else. In Vegas, you will also enjoy top quality sportsbooks which is one thing you won't easily find in America. In the entire United States, there are only two states that offer sportsbooks, and Nevada is the number one. The other state is Delaware.
2. Macau, China
Many people may argue that the title of the gambling capital of the world has been taken away from Las Vegas and given to the Chinese special administrative region of Macau. This is the only city in China where you can gamble physically, and since the people of China are huge lovers of betting, this place booms all day. However, they do not have those gorgeous sports betting lounges that make sports betting more fun. This is because there is only one sportsbook that offers sports betting in the entire city. The meaning is that there are only 10 outlets where you can bet on basketball and soccer in Macau. They are called Macau Slot, but you shouldn't expect to see wall to wall screens featuring the games on.
Having said all that, this place still remains the ultimate paradise for gambling, except for sports betting. This is where you will get the largest casino floor in the universe. The Venetian Macau has a gaming space of up to 376,000 square feet, with more than 640 gaming tables and 1760 slot machines.
3. New Jersey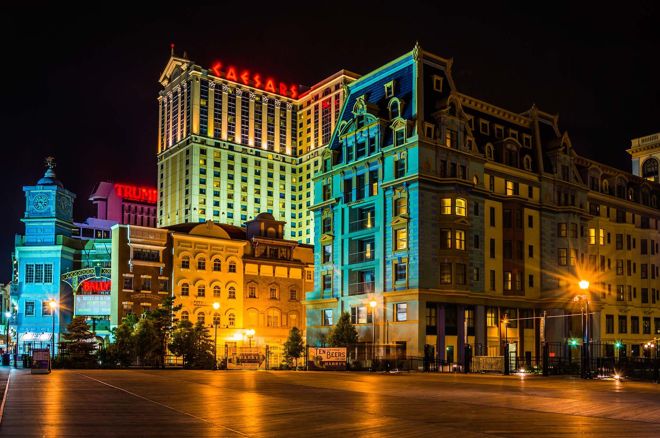 The first place that comes to mind when talking about huge gaming locations may not be New Jersey. But in the last few years, there has been a sort of casino revival in the Garden State. Some of the gambling venues that were previously closed were opened last year.
Atlantic City won the award for the world's Best Gambling Destination in 2015, defeating venues like Monte Carlo and Las Vegas. The resort in question is found around the Atlantic Coast, and it houses a lot of casinos and delivers lots of beautiful dining and evening entertainment to give you the humour and fun you need while enjoying a betting break.
New Jersey is also one of the states that have legalized sports betting, as they offer both land based and online casino services.
4.  Reno, Nevada
Nevada has two major gambling destinations, and Reno is one of them. This is named the biggest little city in the entire world; it qualifies as one of the best gambling destinations in the world. This city lies in Northern Nevada, and is full of iconic casinos like the Peppermill and Eldorado. Here, you are also advised to take a break from betting and have some good time at the amazing scenery around Lake Tahoe.
There are many sportsbooks to select from here, and you find one almost in every casino in Reno. You can move from the blackjack table to a sportsbook easily, wager on a big game, and also watch the action unfold on a top quality HD TV screen.
5. London, England
There are no strict anti-gambling laws in London, making it a paradise for gamblers. You can enjoy lots of betting fun in the city once you are above 18 years. If you find yourself in this city when your favorite team is involved in an NBA, NFL or Premier League game, you won't have a hard time finding a sportsbook to bet on. While the Hippodrome and the Ritz Club are the huge and fancier casinos, you can also find smaller and more casual sportsbooks scattered in the city.
6. Singapore
This is one of the new kids on the block in the gambling destination scene. Gambling was legalized in the country in 2005, but this newbie status did not prevent it from becoming one of the best destinations for gambling in the world.
You won't find much of sportsbooks here yet, because the gambling laws are very strict. But this lack is covered by the casinos. There are many super luxury casino resorts that you can stay in, including the Marina Bay Sands where more than 350 casino tables could be savored. There are nightclubs, theme parks, plus the infinity swimming pool to enjoy.
7. Aruba
If you want to come to Aruba for any other reason apart from the numerous Aqua Blue Water and Sandy Beaches, that would be because of the many exotic casinos. Named the Vegas of the Caribbean, you will get all that you could ever desire in a gambling destination in Aruba.
Lots of casinos that operate round the clock are found here, including the Casablanca, the Copacabana and the Crystal Casino. In most of the hotels and resorts, you can place sports bets in gambling machines, but there are also giant TVs where you can relax and watch the games in some like Stellaris Casino.
8. Monte Carlo, Monaco
You will remember James Bond once you think about Monte Carlo and gambling. In Vegas, you have an outlandish and garish venue, but in Monte Carlo, it's all about class and opulence, and this is what the sophisticated of society craves. This micro state stands as the world's smallest country, but it is a major gambling destination in Europe. Now, you should not be deterred by the opulence tag, because you will always find something that matches your class and budget here. You will have the 1 cent minimum bets at the Bay Casino and the high stakes games at the Casino de Monte Carlo. Now, one surprising thing here is that though one of the biggest sporting tournaments in the world, the Formula 1 Monaco Grand Prix, is hosted in this city, sports betting is not allowed here. But you will still have great fun watching the event.
SiGMA Americas:
Following the successful launch of SiGMA Europe (Malta) and SiGMA Asia (Manila), we're now launching the inaugural SiGMA AMERICAS, covering all three major timezones. The inaugural edition is set for September 22-24, 2020 with a virtual summit focusing on two themes: SiGMA AMERICAS for the Gaming industry and AIBC AMERICAS for the Emerging Tech industry. We wanted to provide fresh content, to help you navigate through these turbulent times. If you're exploring Americas as a new frontier or wondering which tech solutions to embrace, we've got you covered: tune in on September 22-24, 2020.