AGB Webinar Series will look at the crystal ball of Chinese tourism over the next decade
Post-2021, Chinese tourism is set to move towards a new paradigm. Gone will be the days of traditional and digital marketing, and instead, our industry will be making room for "Word of Mouth" marketing.
Our upcoming AGB Webinar Series, taking place on Wednesday, 23 September 2020 at 3pm HKT, will look at the crystal ball of Chinese tourism over the next decade.
With the Chinese outbound market responsible for one out of eight international trips, a trend likely to continue in 2030, the opportunity is as strong as ever.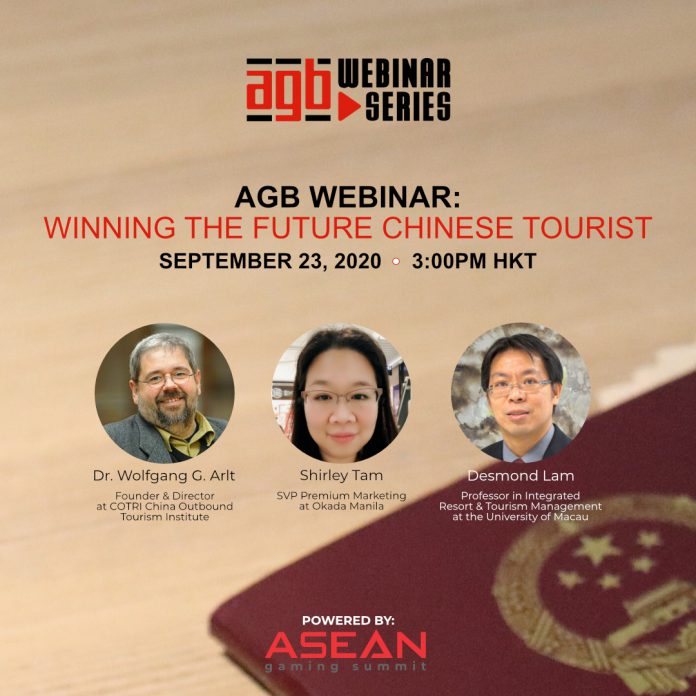 We will first sit down with Prof. Dr. Wolfgang Georg Arlt, founder, and CEO of the Chinese Outbound Tourism Research Institute, who recently published research into what Chinese tourists will come to expect from their overseas trips over the next ten years.
Next, we hear from VIP marketing expert Shirley Tam, SVP Premium Marketing at Okada Manila about how she has seen the behaviors and expectations of her customers changing over the last few years, and where she sees this going.
Finally, we will hear from Desmond Lam, Professor in Integrated Resort and Tourism Management at the University of Macau, to discuss the recent announcement of a "China Tourism Blacklist," and discuss what this would mean for land-based operators based in the Philippines, Macau, Vietnam, and Cambodia, and other Asian jurisdictions which attract a significant amount of Chinese gamblers.
Mark your calendars for Wednesday, 23 September 2020 at 3pm HKT, and join us for the sixth edition of the AGB Webinar Series, powered by the ASEAN Gaming Summit.
ADDITIONAL OFFERING FOR AGB MEMBERS:
AGB Members will have access to an exclusive breakout session following the webinar. To inquire about membership, go to https://agbrief.com/membership/ or email us at [email protected]
See you on Wednesday, 23 September 2020 at 3pm HKT.
Sponsorship of the Webinar is available. Contact us at [email protected] to find out available options.
SiGMA Americas:
Following the successful launch of SiGMA Europe (Malta) and SiGMA Asia (Manila), we're now launching the inaugural SiGMA AMERICAS, covering all three major timezones. The inaugural edition is set for September 22-24, 2020 with a virtual summit focusing on two themes: SiGMA AMERICAS for the Gaming industry and AIBC AMERICAS for the Emerging Tech industry. We wanted to provide fresh content, to help you navigate through these turbulent times. If you're exploring Americas as a new frontier or wondering which tech solutions to embrace, we've got you covered: tune in on September 22-24, 2020.