England takes on Italy this Sunday and the excitement is real. The bets are on – will it come home, will it go to Rome and – more importantly – will Malta survive the crazy?
The EURO final is upon us, England vs Italy will grace our screens on Sunday with both sets of fans eager for their country to bring the trophy home, especially the English with their first final in 55 years. The bets are on – both semi-finals were nail-biting affairs with the Italians needing penalties to beat the Spanish while England needed extra time and a dubious penalty to push them past Denmark.
So with England looking forward to their first final in 55 years & Italy looking to increase their silverware – one would assume that this is the biggest match for both countries. However, England vs Italy is an even bigger match in one specific country. A match which causes a divide in a country, one of the biggest rivalries in European football – a rivalry many nations are not aware about.
The country in question? Malta!
Many Malta based sports betting  operators are rubbing their hands due to this rivalry and are expecting big bets to come in with the whole island backing either England or Italy.
The political divide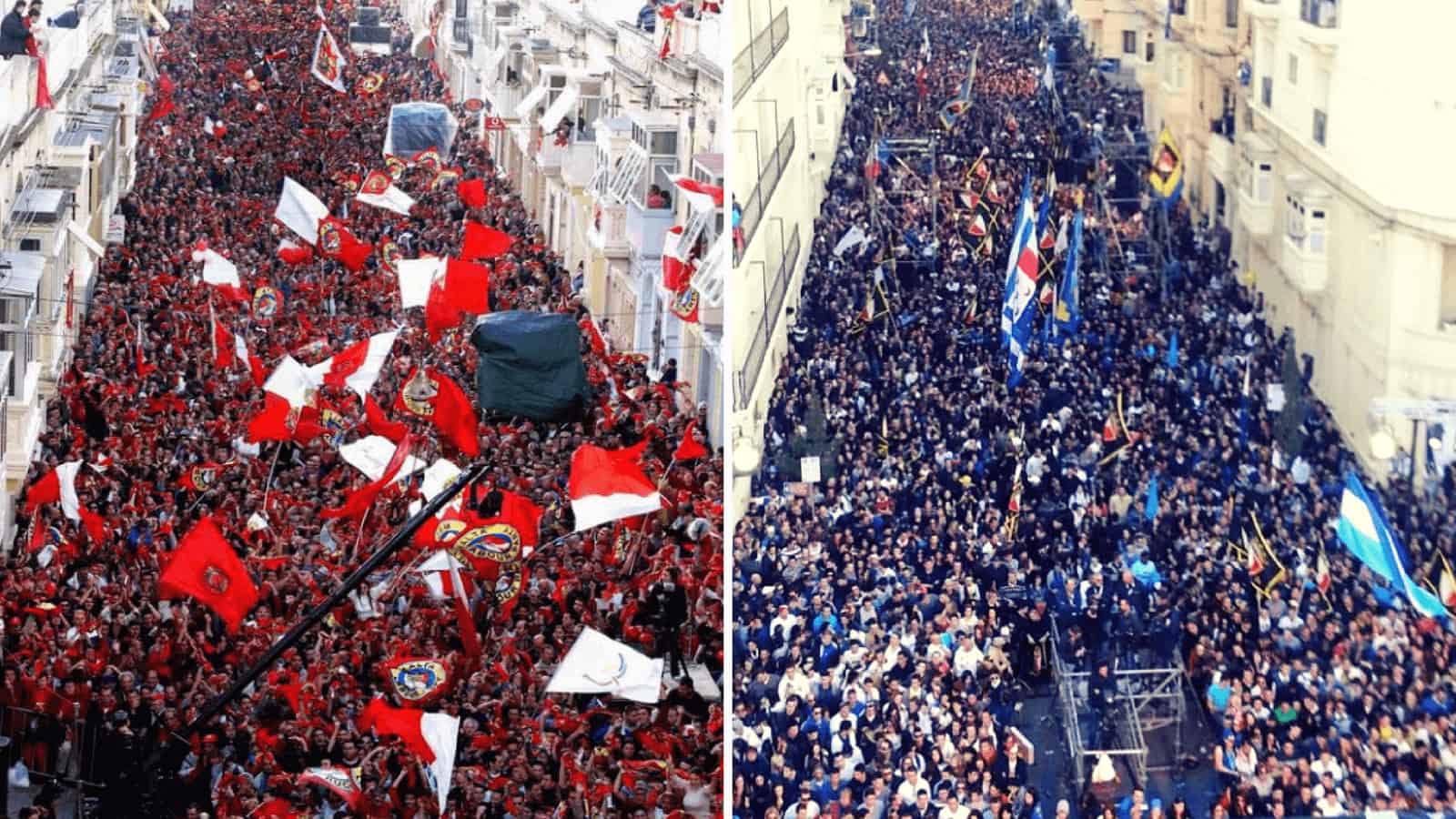 Malta is known for its tribal politics, with supporters of both main political parties treating elections as a football match. Born within a 'red' (that's Labour, for the uninitiated) family – then you will die voting red. And of course, the opposite is also true – if you are born in a Nationalist household (that's the blues)- then, of course, you too will vote Nationalists. It is the natural order of things for many.
Now, politics in Malta is not like any other country. The rivalry is ferocious, with massive street parties – what us islanders call mass meetings – taking place prior to the elections. Once the results are out and the winner announced, one half of the island goes into party mode while the other half simply goes into hiding for days, maybe even weeks.
It is hardly any wonder that this tribal mentality transcends politics into sports, holding true for local club rivalries and reaching often hilarious heights when it comes to international sympathies. And if you thought that Valletta vs Floriana brings out the bitch in us, well then just wait for Sunday's England vs Italy Euro 2020 match.
Island football – from fan to fanatic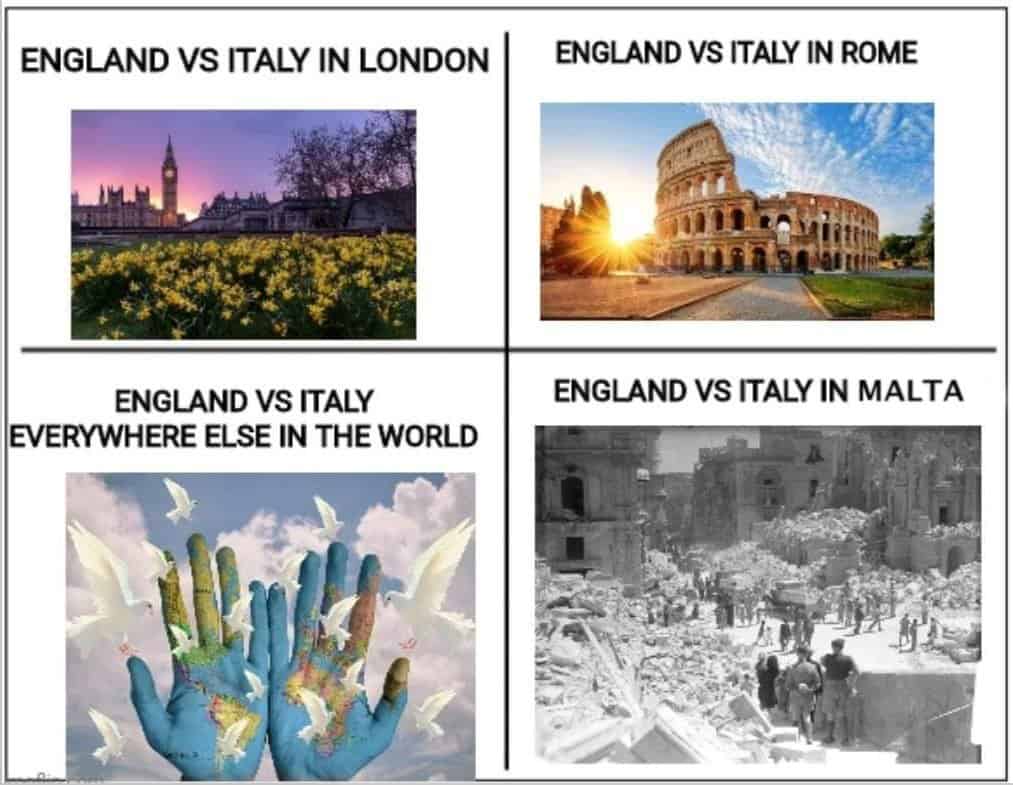 Meme credit: Malta pastizziposting
There is an extremely bitter rivalry in Malta between Italian and English supporters, such an intense rivalry that many friends become enemies for a few weeks! Usually it's all washed away with a pint or two of Cisk, of course. This rivalry is historic and has been going on for a number of years, with Malta's political landscape playing a big part in this strong divide.
The whole island looks forward to an England vs Italy match-up, the country stops, bars are packed and everyone waits in anticipation to see who will earn the ultimate bragging rights. So far, Italy are clearly ahead in the EUROs, beating England twice – Could it be third time lucky for England, 55.98 million passionate English supporters & half of Malta?
Making sense of the madness
So, how did this divide actually happen? Malta is heavily influenced by both countries. Back in the day, Maltese working-class people were employed with the British Services & therefore integrated with the British.
Meanwhile, when it comes to the Italian sphere the Nationalist party had strong links to Italy which naturally transcended into a strong Italian culture, especially since many Maltese had access to Italian tv before cable tv was introduced. Furthermore, to add fuel to the fire the Italians were also anti-colonial which automatically caused quite a bit of tension against the UK.
These historical foundations that have caused such a split do not carry so much relevancy anymore in this day and age but it has certainly set the tone for this division that is still so prominent today. Expect the whole island to stop for 180 mins on Sunday before it bursts into life with England or Italy supporters taking to the streets and celebrating all night long!
What are the odds?
England to win in 90 minutes – 13/8
Italy to win in 90 minutes – 19/10
First Goal – Harry Kane – 9/10
Luke Shaw assist – 11/2
England win on penalties – 15/2
England or Italy to win in extra time – 5/1
All odds were taken from betfair, please bet responsibly
Malta Week – Save the dates:
For the first time ever SiGMA Group is bringing its 4 leading shows together for the mother of all conferences. From the 16th to 19th November, SiGMA, alongside AGS and AIBC will bring the best in the business to a first-class meeting point. Join us for the 7th edition of SiGMA at the MFCC – Malta Fairs Conventions Centre, and explore how you can benefit from being a delegate, a sponsor, an exhibitor, or a keynote speaker.
Get in touch with Sophie for more info about SiGMA Europe Malta. Get in touch with Bernard & Renee to learn more about sponsorship opportunities.