Valentin Darechkin, Product Owner of BluePear, joins the latest series of affiliate interviews on Affiliate Grand Slam
Valentin Darechkin and his team at BluePear not only keep operators safe from publishers bidding on their keywords but they also make the market cleaner – follow his story below.
From where did you start your affiliate marketing business and how? Is iGaming your only vertical?
I started my career in the affiliate industry as a Marketing Manager at Native Advertising Network 6 years ago. Left the company as Product Manager in 2020 and found my dream team — revenuelab.biz. My main experience is with nutra offers, so iGaming something new for me. But the love for my work and the experience in the affiliate industry in general helped me quickly figure it out!
Bluepear.net came about after we saw the specific pain of brands working with us. When the publisher bids in PPC on operator's keywords, the operator pays for their organic traffic. To avoid doing so, operators have to check it manually, but it is not that easy to find. Some publishers are very creative in how they approach brand keywords bidding and to spot it, you need to check from specific GEOs at specific times, etc. We automated this process and are ready to share our expertise with the iGaming industry. In a nutshell, we keep operators (advertisers) safe from publishers bidding on their keywords.
What motivates you to promote more, and what helps you boost your motivation?
First of all, the result of my work motivates me. When you see what a difficult path was covered earlier, you understand that you cannot give up and you need to move only forward. And of course my team, for them I cannot be a failure!
Secondly, we are doing the right thing. We keep operators safe from publishers bidding on their keywords and we make the market cleaner. It motivates the best!
How can you be more unique in your approach?
I try to learn from other industries. This is very useful because from time to time some processes in other industries work better and they can be easily adapted for iGaming. That being said, it is absolutely not used here.
How do you keep operators safe from publishers bidding on their keywords?
It's simple:
BluePear monitors your brand keywords and websites according to any gadget type, GEO, and options 24 hours a day in the automatic mode.
It prepares a report which specifies identifiers of your publishers and also screenshots of their advertising materials for your brand keywords.
It's a 100% argument in a controversy with an affiliate network or publisher regarding the quality of the incoming traffic!
Perfect! Now you won't be charged for your own organic traffic!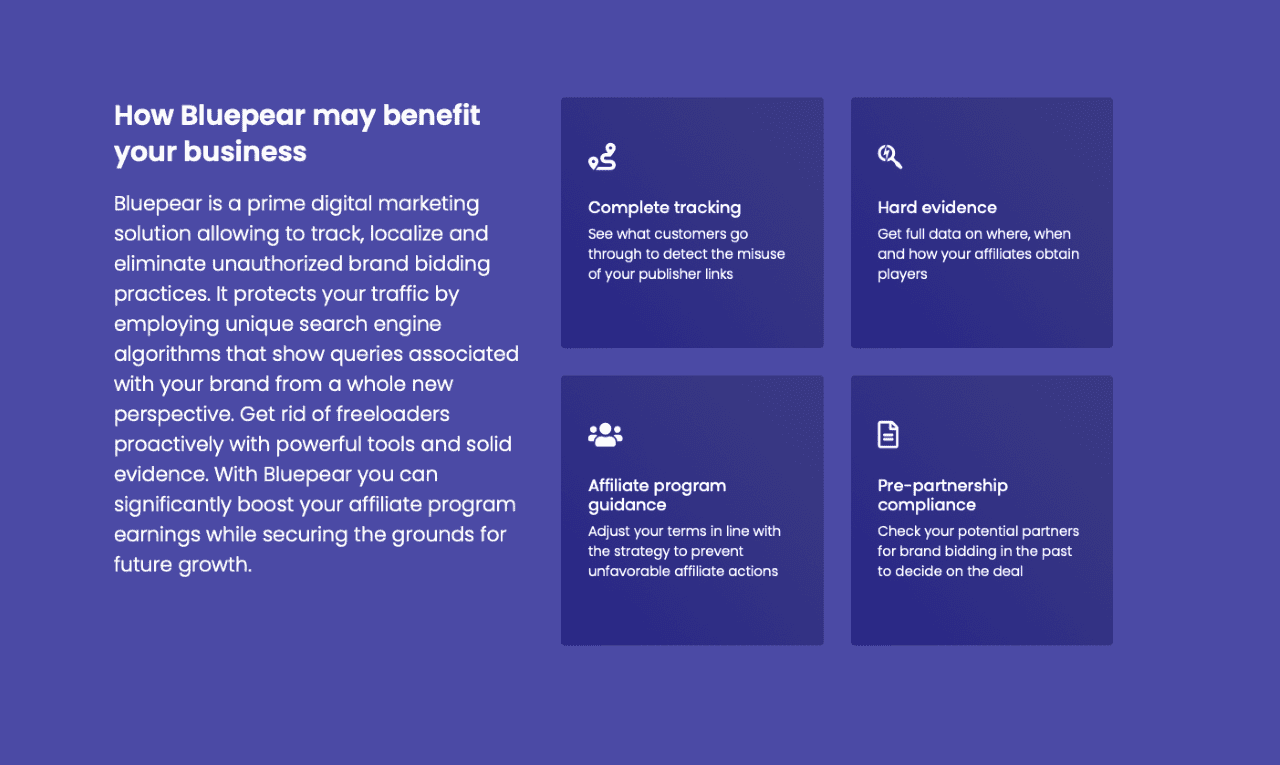 How does technology play a part in your day-to-day?
I think technology plays a critical role in the lives of all people and surely mine. If you don't understand the main emerging technologies and trends, it will be difficult for you to build a multi-billion dollar business and find a decent job. Technologies appear very quickly and in order to stay on the market, you need to constantly learn new things and acquire new skills. I always remind my colleagues and employees about it.
Which emerging technologies like AI and big data will impact the affiliate industry in 2020 and beyond?
AI and Big Data have been affecting our industry for a long time. Perhaps this is not yet so noticeable, but in the future this influence will only increase. And this must be taken into account in the business strategy. Otherwise, you suddenly find yourself uncompetitive.
It is difficult to predict anything in the modern world. The 2020 pandemic is a good example, but all technologies that appear on the global market later appear in our industry. I advise you to look around!
Which qualities and skills are essential in your business?
I appreciate soft skills in myself, in my colleagues, and in people in general. In the modern world, getting a soft skill is not so difficult, but at the same time, for many it is very difficult to remain calm or be able to negotiate. Hard skills are essential for any business, including ours.
What sets you apart from others working in the same field?
We're just the best at what we do. And we are ready for strong competition!
What are your predictions for the future of the sector?
We can definitely say that the industry will grow. It is impossible to say in more detail, because now the world is too unstable.
Do communication and support with operators meet your expectations? How do you manage your relationship with them?
There are no situations or negotiations from which there is no way out, because everyone is interested in making money and making the industry better. This is good news. Our industry has the best partners in the world!
We build friendly relations with our partners, try to see each other more often offline and in an informal setting. So any issues are resolved faster and everyone benefits from this!
What are the benefits of attending large iGaming events?
Of course, these are contacts and new partners. We recommend everyone to actively participate in networking at the conference, because sometimes very unexpected, but very profitable options for cooperation appear. And sure, crazy parties!
Have you ever been to SiGMA? SiGMA Europe, Africa, Asia, or Americas – which of these four expo shows would you likely book on your diary for 2021, COVID-19 permitting?
No, I've never been to SiGMA. However, SiGMA will be the first place I go when the Russian borders open!
Tell us a bit about yourself – after all, business is done with people, not just companies! Your hobbies, favourite book, favourite quote, whether you are into iGaming yourself, etc.
My main hobby is music. At the moment, in my collection there are 5 guitars, each of them is the most valuable to me. You can find a bit of my work on my instagram (@darechkin). Also, after a difficult week, I do not mind going to a noisy party with friends and girls, so join us!
At the end of the interview, I want to thank SiGMA team for the opportunity to speak a little bit more about ourselves. I hope everyone will be interested in reading this. Also, special thanks to my friend Petr Lopukhov (COO at RevenueLab.biz). He introduced me to the SiGMA team and did everything to make this interview happen. Thanks everyone! Add me on LinkedIn. Let's do cool things together!

Get to know other great affiliates, responsible for killer traffic!
 

Click the link to read more insights from affiliates.

Block Issue 5 is out:

The Block is a bi-annual publication which illuminates the cutting-edge sectors of AI, blockchain, crypto and emerging tech, with a print run of 5000 delivered to leading brands across the global industry. View our latest issue of theBlock below.