The newly scheduled date comes as Lotte Tour Development Co Ltd's Jeju Dream Tower is still undergoing preparations
Lotte Tour Development Co Ltd has announced its new US$1.42 billion casino resort, Jeju Dream Tower – a new resort due to have a foreigner-only casino and which is located downtown in the capital of the South Korean holiday island of Jeju –  has been scheduled to open on 18 December. 
Lotte Tour Development Co Ltd's spokesperson said the casino will open at a later stage, as  preparations for its launch are still ongoing. 
 Lotte Tour 's chief operating officer and executive vice president, Lawrence Teo, told GGRAsia in early October, that the group was aiming for a "full opening" of the project  "before the end of this year". 
 The construction of the Jeju Dream Tower – takes pride of place as the tallest building in Jeju at 38 floors or 169 meters high – began in May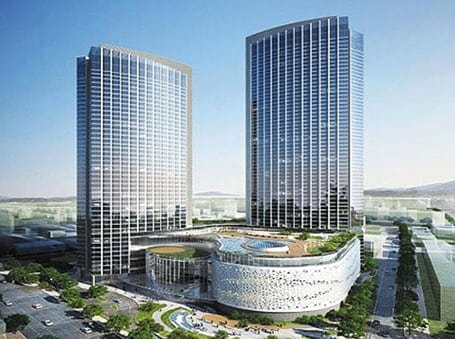 2016, and will feature a retail mall, 14 restaurants and bars, an outdoor pool deck, top floor sky deck with lounge, two spas and, eventually, a foreigner-only casino. 
In August, the local authorities approved Jeju Dream Tower's "social impact" assessment that analyses the effect the project's gaming venue would have on the host community.  
 According to the local gaming regulator, the Casino Policy Division, the "social impact" check is legally required in cases where an existing Jeju casino operator wishes to expand, by more than two times, its gaming-operation capacity. 
According to previous information from the promoter, Lotte Tour plans to move its current foreigner-only casino from the Lotte Hotel Jeju to Jeju Dream Tower, with pending completion of a Casino Impact Study Assessment and approval form local authorities.
The new location will see an expansion of the current gaming space by adding a considerable amount to the current space, around five times more than 5,000 square meters with 150 tables and 300 machines.
Additionally according to the promoter, Grand Hyatt Jeju features 1,600 all-suite rooms and also offers 14 restaurants and bars, and "world-class hotel amenities and recreational facilities.'
Sources: Asgam , GGRASIA
About SiGMA Europe Virtual Expo:
The future of events is here. SiGMA Europe is delighted to announce, for the very first time, an innovative new Virtual Expo taking place on 24th and 25th November, 2020, from the comfort of your own screen. Hot on the heels of the success of the SiGMA Asia and SiGMA Americas Digital Summits, we are elevating your online event experience even further in the form of a fully interactive, state-of-the-art virtual events space, including a brand-new cutting-edge expo floor. Check the full agenda here and register for free!