In a startling turn of events, MGM China, a subsidiary of MGM Resorts, has reported an astounding 900 percent growth in casino revenue for the third quarter of 2023. This meteoric rise, coupled with an overall net revenue increase of 829 percent, positions MGM China as a standout performer within the MGM Resorts portfolio.
Macau's Gaming Renaissance
The Q3 earnings of $813 million not only reflect a remarkable resurgence but also signify a 10 percent increase compared to the same period in 2019, indicating a robust recovery for the Macau gambling market post the Covid-19 pandemic.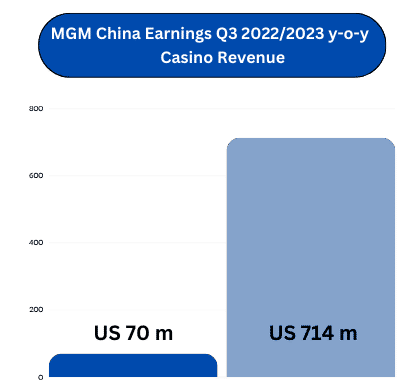 October 2023 revenue peaks
The resurgence of MGM China is not an isolated success story, as Macau itself has demonstrated substantial recovery throughout 2023. October 2023 witnessed the region achieving its highest revenue levels of the year, approaching levels reminiscent of the pre-pandemic era. This positive trend echoes across the Asian gaming landscape, with operators like Melco also reporting a favorable Q3 2023, boasting a total quarter operating revenue of $1.02 billion. As Macau inches closer to its gambling heyday, it paints a promising picture for the broader gaming industry in the region.
Beyond pre-pandemic peaks
While MGM China's recovery has not only met but exceeded pre-pandemic levels, the stock market response has been somewhat tempered. Despite the remarkable Q3 results, stock prices experienced a 4.1% dip from November 9th's start-of-day trade. This discrepancy suggests a nuanced market sentiment, potentially influenced by various factors. However, a closer look at key gaming statistics for MGM China reveals a compelling narrative, with casino revenue skyrocketing by 900%, and main floor table games drop surging by an impressive 838 percent. Additionally, the adjusted property EBITDAR for Q3 2023 marked a significant positive turn, reaching U$226 million, a stark contrast to the US$70 million EBITDAR loss in the same period of 2022.
This figure also represents a remarkable 23 percent increase from Q3 2019, underscoring MGM China's resilience and successful rebound from the challenges posed by the Covid-19 pandemic.
CEO comments
MGM Resorts President and CEO, Bill Hornbuckle, (in photo above), expressed his optimism about MGM China's performance, stating, "MGM China is performing exceptionally well, and we have a pipeline of development opportunities including New York and Japan alongside the growth and development of our international digital business." Hornbuckle's remarks not only reflect confidence in MGM China's current trajectory but also hint at a future marked by expansion and innovation in the global gaming landscape.
Related topics:
AIBC Europe takes place in Malta this month
Rishi Sunak addresses potential and risks of AI (aibc.world)
AIBC Insight: Impact of fintech on Commercial Real Estate
Abu Dhabi Securities Exchange welcomes first listing from UAE