Oryx Gaming and Arcadem reflect on their fruitful relationship – reliving some of their early challenges and triumphs as part of the Arcadem weekly podcast series
As part of a weekly segment held by Arcadem, co-creators Phillip Douglas and Christian Hellman catch up with guest Niklas Mravlje – Commercial Product Manager for Oryx and discuss their ongoing partnership and offer a glimpse into the future with the team giving some spoilers about the next semester of the partnership and teasers for the next games and projects to brace Oryx's platform.
Six months ago, Arcadem announced their first partnership in the realm of iGaming. With the help of Oryx Gaming, titles including but not limited to Evil Elf, The Mad Hatter's Party, Immortal Dao, became available to players across the globe.
In light of their 6 month anniversary, Arcadem's co-creators sat down with Niklas Mravlje, to celebrate their relationship and discuss topics ranging from the prospect of pitching an important business deal in such a competitive market to standing out among the other games providers.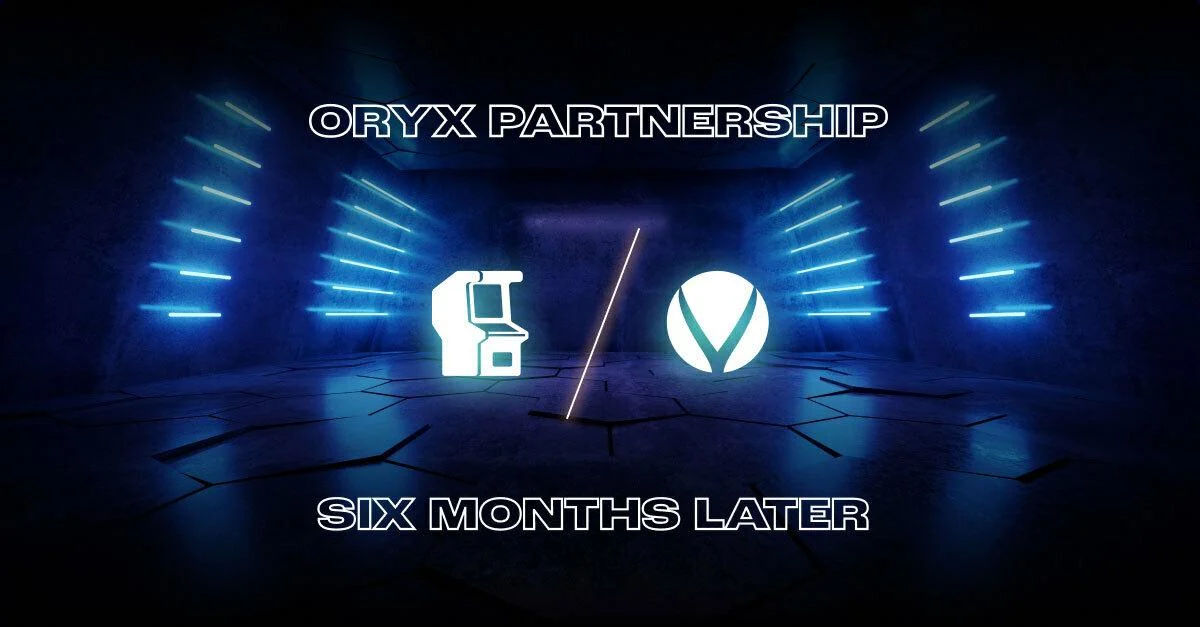 On growing pains, two stood out for Philip and Christian, namely the need to get the product out quickly – a point they say Niklas was luckily a 'man of patience' about (n the end they got the product out much faster than they intended to), and the difficulties of having to start from scratch and learn how to make games on the Oryx platform – something that was 'a learning curve' that they conclude ended up becoming 'a seamless process'.
For Niklas one of the pressure points was the difficulty of ensuring the games made it into multiple markets:
What I particularly see as a challenge initially was certifications. – with the first game, for the lab, as a new version of the game it takes a lot of time to check – when you're not a big brand and you don't have an established portfolio, having a delay of two or three days does cost you a lot. Today we are in a position were we have global operators who release your game but if you're not ready with certificates for other markets, they will release it in one market and there will be no venues for you.
Philip and Christian also speak about how their relationship with Oryx has changed how they see the small details, the finer key points.
Christian says: 'People want to see something new and innovative, new mechanics they haven't seen before. It can be hit or miss with new mechanics, you live and you learn from this – but sometimes when you hit that right combination of graphics, sound and mechanics you find that winning combination it helps a lot from a commercial aspect when you approach the customer.' He concludes that ultimately, the main thing for them is that people need to feel comfortable with the product.
Philip goes on to explain, 'From a development and game art standpoint, the development team at Arcadem are fantastic. You can see this in Dying Romance, the programming is really seamless and especially where the background is moving – that's where the artist and the developers team up and make some really nice animation. However you can't just think about the games you're currently making – you have to think about the games that are coming.'
It's taking all the lessons you've learned in all those initial games, even though they're very good in their own way and bringing them together in the rest of the games moving forward.
For more insights, such as the prospect of pitching an important business deal in a competitive market, and standing out amongst other games providers, listen to the podcast interview in full
here.
Source: Arcadem
SiGMA Roadshow – Next stop Las Vegas:
After our successful roadshow in Ukraine -The SiGMA Roadshow's next stop is Las Vegas
Our Virtual Roadshow reflects SiGMA's global events opening in 5 major regions over the next few years, specifically Europe, the CIS region, Asia, the Americas and Africa. Our previous virtual event, held in Ukraine, welcomed over 2,500 delegate registrations and over 1,500 conference views. There were also over 75 exhibitors and the number of total booth entries hit close to a 6k mark. Join us for our next Virtual Roadshow to learn more about the US gaming market!