From online gaming regulation, to Esports, straight to deep tech, SiGMA went all out for day two
The conference catered for both gaming and tech audiences, with free-of-charge content geared towards bringing the industry together in what has been a difficult time for businesses.
This interactive experience, accessible to everyone, featured a series of panel discussions and keynotes from leading industry contributors, bringing top speakers together for discussions engaging the community and shaping the future as we are still trying to adapt to a fast-changing global environment.
Andrea Domingo, keynote speaker and Chairperson of PAGCOR opened today's digital summit with her striking speech. She addresses the virtual audience and says that the "Relationships we have now are reshaping the world into a global village – we are not just a separate conglomeration of countries and states." She also speaks about POGOs in the Philippines and goes on to say that "What the POGO operations generate in terms of gaming revenues is not the main event – it is the employment generation that it creates in the locality."
For the second regulatory update SiGMA got some regulatory insights from Malta Gaming Autority's Chief  Executive Officer Heathcliff Farrugia. Farrugia joined the Malta Gaming Authority in 2014 as Chief Operating Officer, and was promoted to CEO in April 2018. He has taken over the helm of the authority at a very exciting time for the gaming industry, "As a regulator we made it clear that any exploitation of the current climate by any operator will be faced with enforcement action – and that was a statement we lived up to.
"We have taken action against operators who insensitively or irresponsibly used this pandemic in an attempt to attract consumers to its products – vast majority of operators were very cooperative when approached, and even bigger majority did not need any intervention from the regulator."
"As a regulator we are apprehensive of the fact that while the health risk from COVID-19 may be more controlled in some countries, the financial repercussions are yet to be calculated. It is a risk that both operators and regulators need to keep monitoring closer than ever before."
Another highlight was the Coping with COVID panel. Joseph Borg, WH Partners had a more realistic view to share, saying: 'Operators are realising that land-based and online are complimentary to each other. I believe there is going to be a time where land-based, for a short period at least, will become a bit more popular than online after this COVID situation – because people also want interaction.
'This is not a case where land-based is doomed and online is going to take over. Operators not investing in both are making a mistake."
The interactive chat also featured a poll on how regulators responded to the COVID-19 crisis, with some surprising results. 27% were in favour of the Philippines, while 13% were batting for Macau, Sweden, and the UK. 7% voted for Latvia and 27% chose other.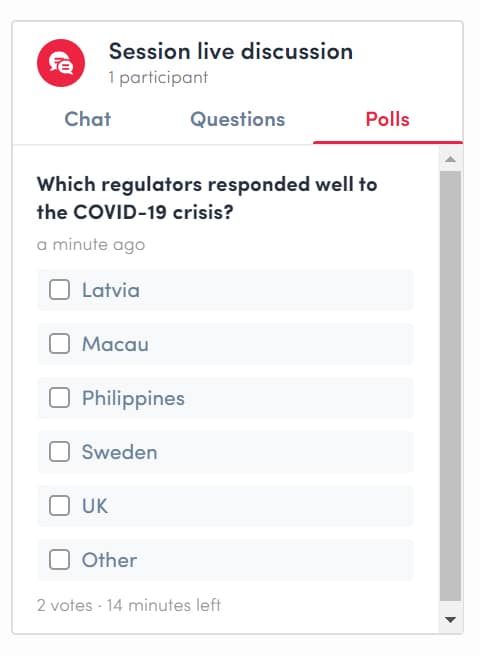 We also focussed on adaptability. Jesper Svensson, CEO for Betsson Group said, "If you want to have good regulation, which means good canalisation of companies playing within your framework and paying tax to you, you need to make that attractive enough to keep away those that don't want to have a licence within that framework. The balance has to be better in some countries.'
He was also joined by Jesper Karrbrink, Chairman, for Green Jade Games.
'We have the data, we know what happens when you try to regulate too hard – they are destroying the functional system with generalisation. The players that they try to protect are the players they are not protecting right now – these are the players they push into the black market.'
HR was also a standout panel, with Erik Bergman, Founder of Great.com chiming in on the power of good communication and a strong team ethic.
"As long as you communicate well and you're trustworthy and honest i think you can accomplish anything with pretty much any group of people.
"I've been suffering through what poaching can lead to. One of the main downsides of having a business in Malta, where my previous business was, is that everyone else is there too! Today my approach is, I want to create a business that is so different from everything else, that attracts such different people, that it is more or less impossible to poach people because they are there for the greater cause, there for that team rather than the individual journey.
'If you focus enough on creating a business that stands out for itself, that people make a mission to be a part of then poaching isn't a problem anymore."
Sergey Portnov, CEO at Parimatch.com had strong thoughts to share on branding, saying this about the company's legendary partnership with Mike Tyson, and Conor McGregor:"We don't want to be some  ordinary, grey brand, we want to bring how we communicate to a new level.
'We have been rebuilding our brand as a brand of men – our brand mission is: let men be men! We wanted to instil this alpha spirit within Parimatch.
"If you pursue an ambassadorship with a star, whoever you pick, you have to ensure that your brand matches their values and your corporate culture matches their culture. If you manage to find synergy between two cultures that's when your brand gives you 150% value."
eSports was also a topic much discussed, Martin Clarke, Director of Product, Digitain, had this to say:
"Virtual sports has always been very popular, it's always been growing and it has that connection with the sports bettors, and I think that's why eSports has grown so much in popularity over the last few weeks and months. We've seen a huge migration of sports book customers playing those particular games.
"What we haven't really seen is the migration of those customers moving towards the more traditional eSports games. (League of legends, Counter Strike etc.) Will those habits return to normal? For those customers who have migrated to football and MBA – no, I think that will continue.
"People like fast markets. I don't see the efootbal and  the basketball going back to pre-COVID numbers. There could well be cannibalisation on normal soccer events, we may see them impacted, because esports sporting events are available now 24/7, so they may well take some proportion of funds customers are spending – you might see a decrease on lower tier activity."
With plenty of heated debates, day two of SiGMA Asia Focus had plenty to offer. Tomorrow brings more tech with the Emerging Tech segment taking over the morning and Deep Tech returning in the afternoon for its final session. Viewers can catch Parlimentary Secretary, the Hon. Clayton Bartolo's opening keynote at 10.00 am, followed by a series of panels focussing on emerging tech, crowd funding issues and challenges to growing the crypto ecosytem.
Marcelo Garcio, from UN Smart Cities also joins for a panel on streaming games on the blockchain.
Overall, the day was very successful and this goes on to prove that going virtual is a viable direction to go for interactive networking!
Tomorrow, Emerging tech by AIBC will take place. Opening up the summit we have Hon. Clayton Bartolo Junior minister for the Government of Malta. Later, various compelling discussions will follow bringing top speakers together.
[WATCH THE FULL CONFERENCE FOR SIGMA FOCUS ASIA]
[WATCH THE FULL CONFERENCE FOR DEEP TECH]
SIGMA GOES DIGITAL WITH ASIA FOCUS AND DEEP TECH

We're bringing gaming into the future! With the advent of emerging technologies in the gaming industry, we decided to stand ahead of the pack and address the industry needs by launching SiGMA Deep Tech. Explore the full agenda here and register now, this one's on us!