PAGCOR chairman and CEO Alejandro H. Tengco and SiGMA Group founder Eman Pulis, officially opened SiGMA Asia's first event. The ribbon-cutting ceremony took place on the SiGMA stage at the SMX Convention Centre in Pasay City, Manila.
The chairman was also presented with a portrait of himself in recognition of his strong support and patronage of the SiGMA event.
In his opening keynote Tengco expressed his gratitude to former PAGCOR chairman Efraim Genuino, who was seated in the packed conference arena, for his efforts to set up the entertainment city and opening of Integrated Resorts in his time in office – ultimately paving the way for PAGCOR's current success.
"Today PAGCOR is gaining the fruits of such endeavours."
Future plans and projects include:
-The creation and upgrading of regulatory manuals
-Modernisation projects for slot machines and casino management system
-New product offerings
-Revisiting the expansion of regulations
-Enhancement of monetary and enforcement measures to curb illegal online gambling
-Revenue efforts to sustain nation building projects of the government of the Philippines
-Shift from a dual operator-regulator role to purely regulatory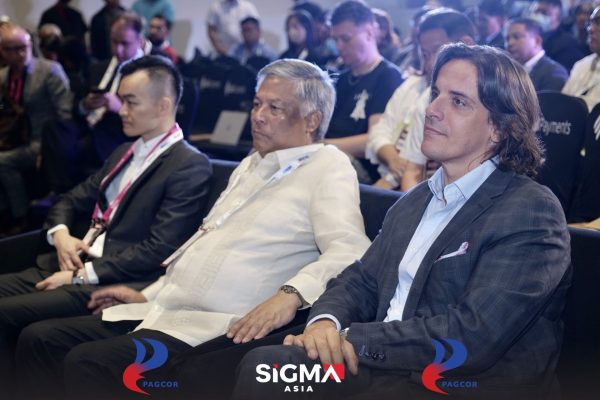 Vision and accomplishments – 71 billion total projected income for the year 2023
"Engagements like this are an effective platform to communicate the organisation's drive to revitalise the gaming sector in the Philippines. Ensure integrity of gaming industry, seamlessness in curbing illegal gaming operations. 
Tengco went on to share the projected income for the year 2023. From January to June 30, 2023, total income from gaming operations surged to 34.5 billion pesos. Contributions to nation building hit 23 billion pesos. For the second half of the year, total income from gaming operations is projected to reach 37 billion pesos – with 71 billion total projected income for the year 2023.
GGR from January to June 2023 was 136 billion pesos – this excludes GGR from offshore operations. If this trend continues PAGCOR will record its highest ever GGR in PAGCOR history by the end of 2023.
This, he said, is a good indicator of how the gaming industry maintains its standing amid social political turmoil and how PAGCOR remains a leader in nation building efforts.
There is a commitment to propel the revitalisation of the gaming industry in the Philippines, he continued. Planned measures to encourage market growth and healthy competition include preliminary steps to modernise slot machines in all PAGCOR properties, including the purchase of 3500 brand new units of electronic gaming machines. 
They have also partnered with experts to develop I.T. programs and systems to enhance the casino management system – a pivotal role in implementing PAGCOR casinos in terms of operational efficiency, fraud prevention, and compliance requirements.
2024: the launch of CasinoFilipino.com 
Tengco announced plans to launch their own online gaming operations in the first quarter of 2024 – CasinoFilipino.com.
This aims to employ virtual reality-based tech to simulate the sights and sounds of physical casinos – bringing an enhanced gaming experience. "It transcends physical boundaries, he said, reaching a global audience and establishing a presence in virtual communities of gamers. An opportunity to tap into new markets and diversify its customer base."
It comes with a price, however, Tengco cautioned. Requiring more regulation and oversight. 
New opportunities for Startups
Alluding to SiGMA's dedicated area for startups: "I love the organisers for giving startups the opportunity to take part in this conference, this gives all the startups the opportunity to be able to show to the world that they can do or produce products that can be useful not only to the  gaming industry but all other aspects needed by every citizen in the world. 
"Please allow yourself to learn from each other's industry and be inspired by everyone else's vision," he concluded.
"Next to the big event in Las Vegas I attended this year, this gaming show – SIGMA Asia – is the biggest and most successful I've seen and experienced since then."
Still haven't bought your ticket yet? Get it online from the SiGMA website or head to the registration booth this afternoon.