Lucas Gerhardsson, Co-Founder of Red Earth Ltd, joins the latest series of affiliate interviews on Affiliate Grand Slam
Lucas Gerhardsson speaks about Link.Builders, which he describes as a tool for SEO professionals. Their vision is to become an "AirBnb" for link purchases. Their aim is to make a huge change to the entire link purchases market – follow his story below.
How did your affiliate business take off?
We have been in the affiliate industry for quite some time now. I have always been interested in the internet in general and particularly creating websites and generating traffic. However, I started to work full-time with affiliation in 2017, when joining Slotsia.com, founded by my partners Max and Magnus (later sold to Catena Media). Before that, I was working with digital marketing for many years, in different forms.
After Slotsia, we started Red Earth which is an affiliate company, generating leads through organic and paid search traffic. Another big part of our company is our SEO consultancy and our link-building consultancy through Link.Builders (former Linkpirates).
Tell us a bit about your background to the idea of link.builders. Why did you build it?
My two partners and I come from a background in SEO affiliation. When we started scaling up our business a few years ago, we realised how cumbersome and above all time-consuming it is to manage link building on a larger scale manually. It took an enormous amount of time, and the work became quite monotonous and boring. We had two choices – to either build a new department that only works with link building and outreach, or to build a system that makes it easier for us. We have a penchant for product development and chose the latter option.
Tell us a bit more about Link.Builders' business model, concept, culture, and the incremental value that you provide?
Link.Builders is a tool for SEO professionals who work with quality link building with strong and authoritative websites. We want to combine data from different platforms and websites, visualise the data, and make it easy to quickly take a decision about anchor text, type of link, link growth over time, and so on. Basically, it makes your link building easier.
Today, SEO professionals mainly buy links in two different ways; either through direct contact with a site owner or through a broker who has thousands of third-party sites in his portfolio. The former is best because it is always the cheapest and you have total control. Using brokers is nice when it works, but we have seen that the additions on the price that are made are enormously high and in recent times we have also seen more scams connected to brokers.
When it comes to the business model itself, we want to make a huge change to the entire market for link purchases. Our vision is to become an 'AirBnb' for link purchases. Instead of putting an extra cost on the price that the buyer ultimately must pay, we take a small part from the seller instead. And to be listed on Link.Builders, the prices must be regular prices. This allows us to sell links at the same prices as if the buyer would go directly to the seller, with 0% broker fee.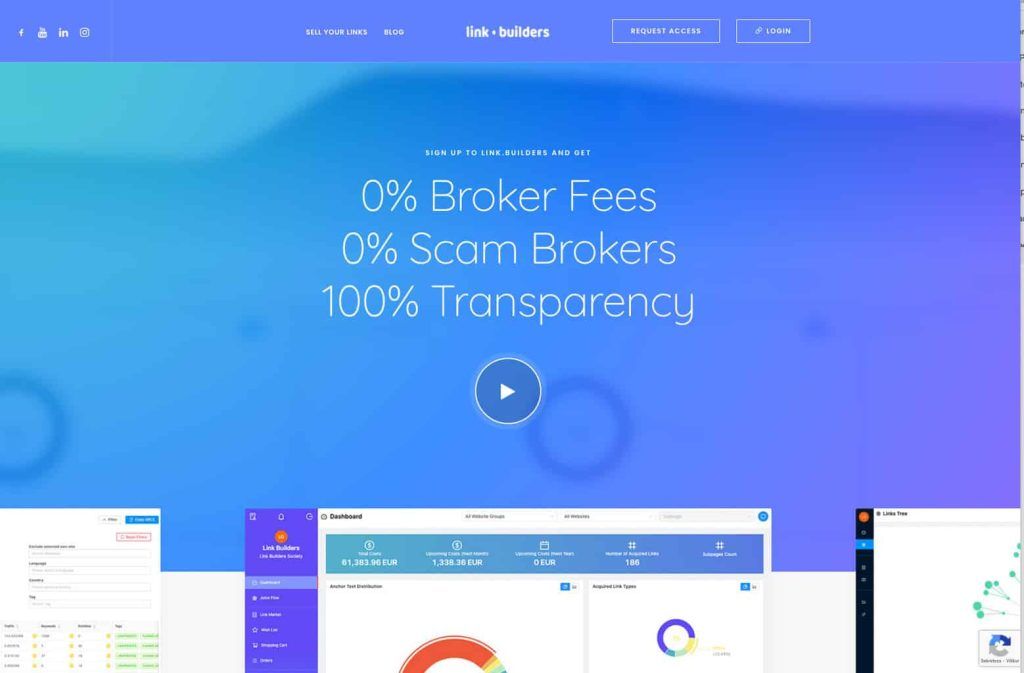 What sets you apart from other link builders?
We are focused on larger clients to whom we can offer personalised outreach efforts and competitor analysis. This gives us a much better understanding of the clients and a more seamless relationship.
However, I think the biggest difference is the fact that we charge 0% broker fee. We charge the website owners instead of the SEO-professionals. This is something we think is very reasonable, but still unseen in the industry. All links bought through us have the same price as if the clients were to buy them directly from the website owner.
After links are bought, our clients can monitor all links in our database. The database is automatically checking that all links are live and not changing anchor text or rel-attribute. It also saves data historically, which is great when it's time to renew links.
What distinguishes Link.Builders as opposed to going directly to the seller is that you can place bulk orders, analyse your link data per sub-page and when the links are purchased, the links are checked every day and should a link disappear or the "rel-attribute" would change, you will find out immediately.
This is just a few of the things that differ us from other link builders.
What helps make your performance successful?
We have full transparency through our database. Some competitors are only showing metrics and not the actual URL, since they add their broker-fee and don't want the clients to contact the website owner directly.
We are the other way around and show everything. We want all clients to know they are not paying crazy broker fees and that their links stays where they should be.
What makes a reliable link builder?
You must understand the clients' business. We have many years of experience within affiliation, especially within the iGaming space. This gives us an edge and understanding of what the clients want and need.
In terms of reliability, we offer both sellers and buyers protection in terms of payment and placement which is something both sides have been asking for.
Apart from that, I believe our transparency makes us very reliable. There's nothing for us to hide and everything is accessible through the database.
Links are critical to SEO success. Can you elaborate?
I would say that the importance of links differs depending on what type of website you have and what niche you're focused on. The iGaming niche is very aggressive and to be able to catch up with the competition, you really need to focus on links.
Different links have different value and "authority". If you have two websites that are identical, the one with a stronger link profile will normally rank higher on Google. At the same time, there are hundreds of different ranking factors that affect how Google treats your site, but I would say that the SEO community is pretty much in agreement that content and links are the two most important factors for ranking high.
What type of link scams exist? How common are they?
It's more and more common that a broker is contacting a link-buyer and offering high authority websites, the SEO-professional buys it and the broker contacts the website owner to put the links live. When the buyer sees the links live, they pay the broker, but the broker never pays the seller and he deletes his Skype account. The links will obviously disappear and it's very hard to track down the broker. We will soon launch a "buyer and sellers protection" in order to create a better climate between buyers and sellers.
What is the climate of link building and link brokers?
Because of what we mentioned before, SEO-professionals are in general very skeptic to link brokers. Either they have seen the high additions on the price, or themselves or others they know have been scammed. If you should use a broker, it should be by recommendations from industry colleagues, because it's very hard to protect yourself.
How does technology play a part in your day-to-day?
We have been and still are developing a very sophisticated system where clients can sort and filter on all links in our database. We have a bunch of APIs connected to the system and it's possible to import all of your backlinks, even backlinks not bought through us, to analyse your link growth, anchor text distribution etc. As mentioned before, we are also crawling the websites, also imported external backlinks, every day.
This platform is far from finished and might never be. We are constantly adding new features and have a huge backlog for all technology we want to develop.
What is your approach in the initial stages of a new partnership?
As mentioned, we need to understand the clients' needs and their goals to be able to provide a service which will make a change for them. Therefore, we have a bunch of questions we need answered and after that we are always doing an individual analysis on the current backlink profile, the link growth over time, and compare it to competitors.
When we believe we have a good understanding of the client and good leads, we start to suggest links based on the initial information we got from the client.
Have you ever been to SiGMA? SiGMA Europe, Africa, Asia, or Americas – which of these four expo shows would you likely book on your diary for 2021, COVID-19 permitting?
Many times! I will definitely be in Malta, but we have more projects covering other parts of the world so we might go to some of the others as well. It's always nice to see all industry colleagues.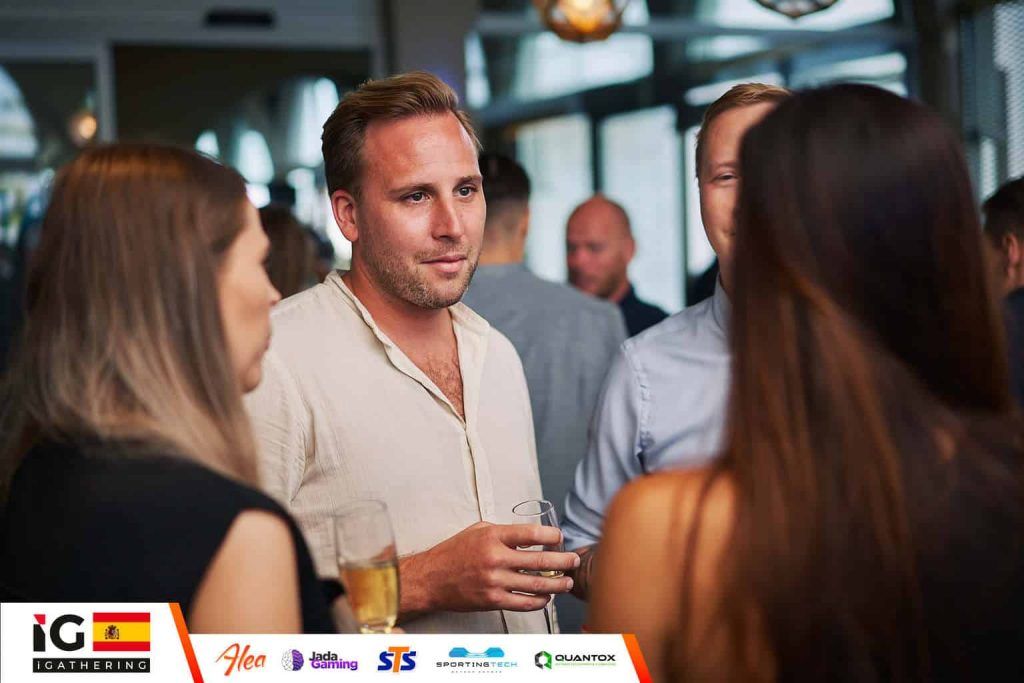 Read Lucas Gerhardsson & Daniel Larsson's full interview, entitled "The missing link", on the latest issue of SiGMA magazine.
Read more about SiGMA Affiliate Grand Slam here.

Malta Week – Save the dates:
For the first time ever SiGMA Group is bringing its 4 leading shows together for the mother of all conferences. From the 15th to 19th November, SiGMA, alongside AGS and AIBC will bring the best in the business to a first-class meeting point at the Malta Fairs and Convention Centre (MFCC). Malta Week is a chance for investors to leverage the significant crossover potential for multi-faceted business deals and to double down on opportunities to connect with some of the leading affiliates, policymakers, thought leaders, suppliers, and operators in the industry. Register now!